Official Bicentennial Ingots issued by the Franklin Mint. First Edition Proofs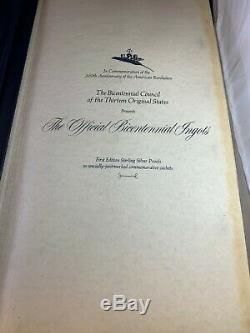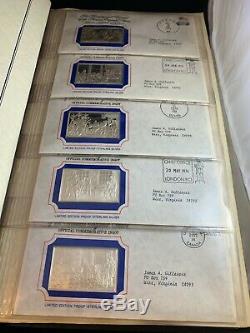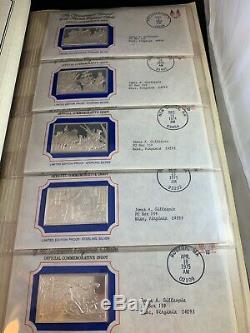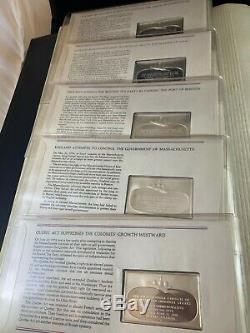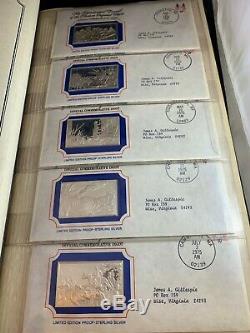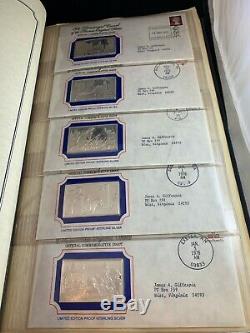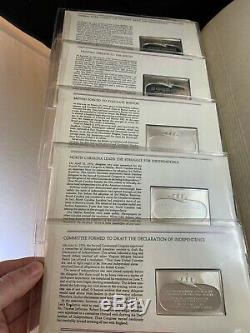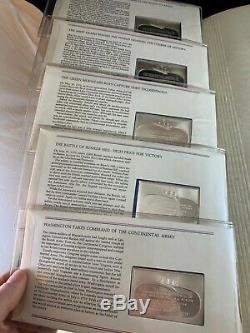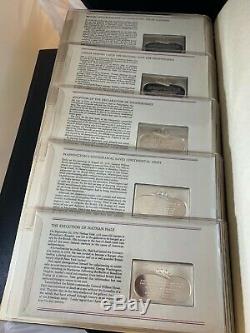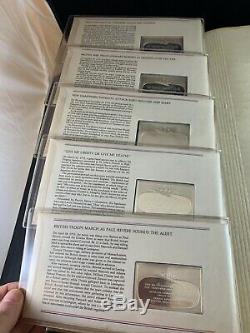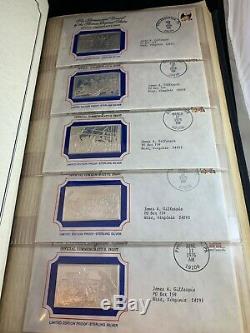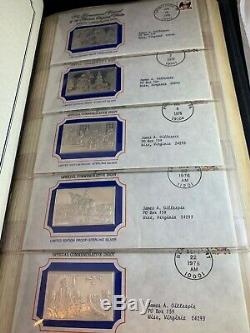 The Bicentennial Council of the 13 Original States, along with the Franklin Mint, released a series of 70 sterling silver ingots to commemorate the 200th anniversary of the American Revolution. Each ingot was sent to subscribers in a postmarket cachet from the location depicted by the ingot. The Franklin Mint only released 19,312 copies. This item contains the first 52 of 70 ingots collected by an original subscriber.
The ingots measure 36.7 x 58.9 x 3.1 mm and weight approximately 57.8 grams. The collection is bound in a leather book with each cachet contained in a plastic sleeve.
The cachets and ingots, listed with postmark location and issue date, depict the following milestones of the American Revolution. The Boston Tea Party Ignites the struggle for the American Independence. England removes Benjamin Franklin as Deputy Postmaster General.
England avenges the Boston Tea Party by closing the port of Boston. England attempts to control the government of Massachusetts.
Quebec act suppresses the colonies' growth westward. First Continental Congress unites the colonies. Patriots attack Fort William and Mary. Give me liberty or give me Death!
British troops march as Paul Revere sounds the alert. Encounter at Lexington shows colonists are ready to resist. The Shot heard round the world changes the course of history.
The Green Mountain Boys capture Fort Ticonderoga. The Battle of Bunker Hill high price for victory. Washington takes command of the Continental Army. The Colonies make a final plea for peace. Congress forms the committee of secret correspondence. The Quebec campaign diverts British strength to Canada.
Continental colors symbolize the colonies' unified strength. New Hampshire becomes an independent colony. Thomas Paine asserts the colonies' right for independence. Fighting Spreads to the South.
British Forced to Evacuate Boston. North Carolina leads the struggle of independence. Committee Formed to Draft the Declaration of Independence. British Attack Repulsed at Charleston, South Carolina. Caesar Rodney Casts the Deciding Vote for Independence.
Philadelphia, 7/4/76: Adoption of the Declaration of Independence. Washington's Withdrawals Saves Continental Army. The Execution of Nathan Hale.
Benedict Arnold Stops British Invasion from the North. Dutch Fire 11-Gun Salute to the American Flag.
Congress Convenes in Baltimore, Maryland. Franklin Begins Negotiating French Alliance. Congress Adopts the Stars and Stripes. The Scalping of Jane McCrea.
Paris, 2/6/78: Treaty with France. 2/23/78: Von Steuben Joins Washington at Valley Forge. 5/4/78: Congress Approves Treaty with France. 8/29/78: The Battle of Newport. 12/29/78: The Battle of Savannah. The item "Official Bicentennial Ingots issued by the Franklin Mint. First Edition Proofs" is in sale since Saturday, July 27, 2019. This item is in the category "Collectibles\Decorative Collectibles\Decorative Collectible Brands\Franklin Mint\Other Franklin Mint".
The seller is "usmar-gz3ielwt" and is located in Binghamton, New York. This item can be shipped to United States.
Featured Refinements: Franklin Mint Silver
Country/Region of Manufacture: United States