10 Ozs SILVER Mescalero APACHE Turnabout INDIAN PEACE MEDAL M=350 + Prucha Book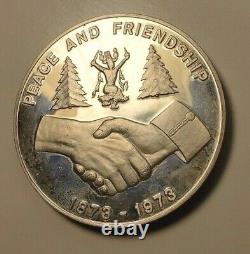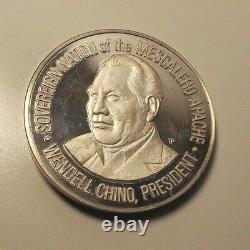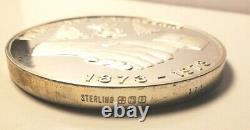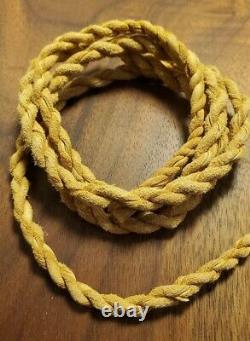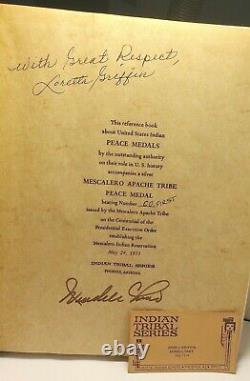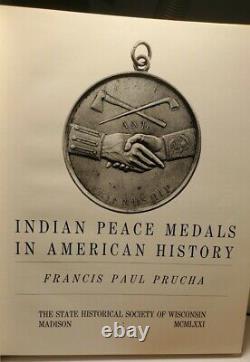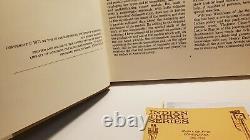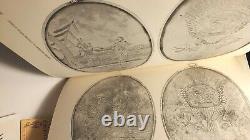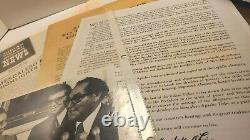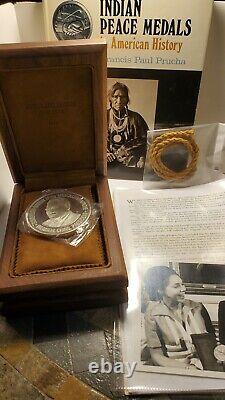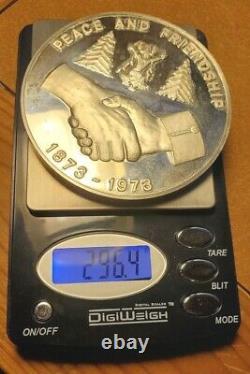 Ozs SILVER Mescalero APACHE Turnabout INDIAN PEACE MEDAL Mintage = 350 + Francis Paul Prucha Book "Indian Peace Medals in American History", Polished Solid WALNUT Wood CASE, Buckskin Cord. There are historical documents included with this lot that never accompanied any other medal. This medal weighs 296.4 grams which is over 10 avdp ounces but sterling silver is measured in troy ounces so the exact weight is 9.529 troy ounces. The medal is numbered on the side as number 173 (out of 350) and the edge also says "sterling".
Included in this lot are all of its original components plus related documents. The 9.5 troy ounces silver Turnabout Indian Peace Medal, the walnut case, the ITS buckskin necklace, the Francis Paul Prucha IPM book with two autographs, an ITS letter and newsletter, a copy of the speech President Chino made when he presented a duplicate of this medal to President Nixon, and a photo of that presentation. President (Chief) Wendell Chinos wife, Rita Chino, designed this medal using traditional peace medal elements and Chief Chino presented these formally to tribal leaders and dignitaries, the governor of New Mexico, Senator Pete Domenici, other congressmen, and then he traveled to Washington DC. He presented a medal just like this one to President Richard Nixon out of gratitude for important Indian legislation that Nixon had pushed for.
Julie Nixon Eisenhower, the presidents daughter, accepted the medal on behalf of the president. It was the first time and as far as I know, the only time, that a chief presented an Indian Peace Medal to a US president instead of the other way around. This book is valuable all by itself, a difficult to find edition, published in. 1971 by the State Historical Society of Wisconsin publisher.
This book is also signed by Loretta Griffin of the Indian Tribal Series, one of only three of these books that she signed. In fact, this one was her copy and it is numbered 00 FIRST. Loretta designed 39 of the 40 different medals in the ITS series. This Mescalero Apache medal is the only one she did not design. This huge solid silver medal is one of only 350 made and has tons of history with it.
It is guaranteed to be a genuine Indian Peace Medal of the modern Turnabout type. Turnabout Indian Peace Medals are offered by tribes and presented by tribal leaders instead of being given to them. To be a Turnabout, a medal must have strong traditional peace medal elements, so these are rare among Indian-theme medals.
Among the 40 piece Indian Tribal Series, for example, only ten per cent or 4 of the small silver medals could be considered Turnabouts: Mescalero Apache, Pottawatomi, Pawnee and Otoe-Missouri. This larger version of the small Mescalero Apache medal is a Turnabout because it contains the inter-racial handshake and the words Peace and Friendship. Only 350 pieces were minted of this massive version, weighing in at almost 10 ounces of silver (9.5 troy ounces, to be exact). Between 10,338 and 11,433 of the smaller ones were made. This is the only tribe in the series that has a small and large version (the larger Osage medal is of a completely different shape and design from the smaller one). The value of the silver in this would have soared far beyond its issue price during the great Silver Price Surge of 1980. It is believed that many were melted at that time. This medal still has its beautiful polished, heavy and solid wood hinged case (carved out of a block of walnut) and original twin suede-covered pillows.
The medal is numbered on the side as number 173 (out of 350). Century buckskin cord is 33 inches long and has been rolled or twisted in the Indian way like the ones used by many chiefs in the past.
It was included with the medal, case and book in case any recipients of the medal wanted to have a ring added so that they could wear the medal as a necklace. The case is lined in suede, contains two suede pillows and is embossed inside the lid with the words Mescalero Apache Peace Medal 1973. This excerpt from "Indian Peace Medals and Related Items: Collecting the Symbols of Peace and Friendship, " by Rita Laws, is used by permission. Briefly, the Seven Types of medals in the Indian Peace Medal Family are.
Medals presented to chiefs and Indians by European or US government representatives prior to or during 1893. Medals presented to chiefs and Indians by companies or other individuals prior to or during 1893. Modern Indian Peace Medals made after 1893, when presidential Indian Peace Medals ceased production.
Turnabout Indian Peace Medals, given or made by the tribes instead of to the tribes. Indian Peace Medal "siblings, " U. Official re-strikes of Indian Peace Medals made by the US Mint. Other types of re-strikes, copies and replicas. All of the medals in the 7 Indian Peace Medal Family of categories fulfill one or more of these six requirements.
The Indian Peace Medal may have been originally made for another purpose, such as an Old World coronation commemoration, but history records that it was also used as a gift to the leaders of indigenous groups such as, but not limited to, American Indian tribes (Type I, Type II). The medal was created specifically to be used as an Indian or Chief's Peace or Friendship Medal or to honor the local indigenous people or tribes (Type I, Type II, Type III). The medal was created for more than one purpose, including that of Indian Peace Medal (Type I, Type II, Type III).
The medal was made or commissioned by Indian tribes instead of for them, and also contains one or more clear elements of Type I or Type II Indian Peace Medals in symbolism, design, or wording (Type IV). The medal was made for the collector market privately or by a government mint as a commemorative, restrike or copy (Type VI, Type VII). The medal belongs to the official US line that includes Indian Peace Medals and is called the US Mint Presidential Series (Type V). Please pay after receiving your invoice. Allergy Note: All lots come from a smoke free and cat free home but pre-owned items may have originated in different conditions.
Please bear this in mind, as well as the post office transit time estimates, when looking at arrival dates. I have received angry emails from slow-paying buyers who have no idea that the process is automatic, hence, this reminder. Feedback is important but not my priority.
I leave feedback only once or twice a month in large groups to save time. All text and photos are copyrighted. The item "10 Ozs SILVER Mescalero APACHE Turnabout INDIAN PEACE MEDAL M=350 + Prucha Book" is in sale since Friday, May 28, 2021. This item is in the category "Coins & Paper Money\Exonumia\Medals".
The seller is "coin3rdgen" and is located in Oklahoma City, Oklahoma. This item can be shipped to United States.
Country/Region of Manufacture: United States
Type: Medal
Composition: Silver
Brand: Franklin Mint