132 OZ SILVER Franklin Mint Bicentennial Counsel 13 Original States Proof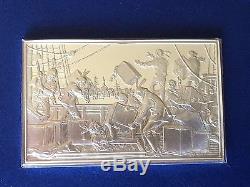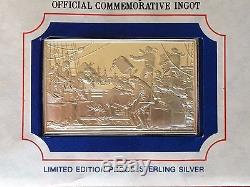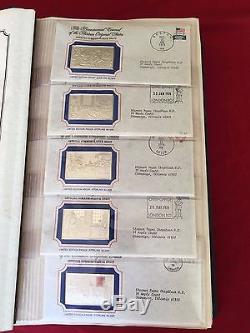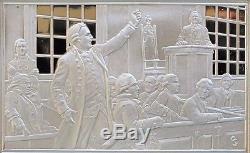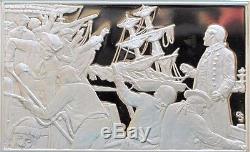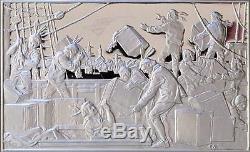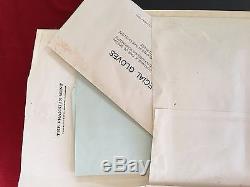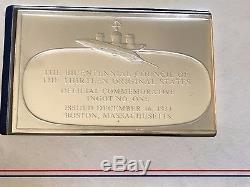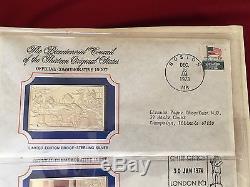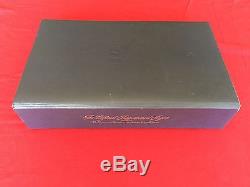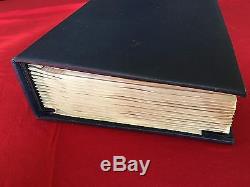 THE OFFICIAL BICENTENNIAL COMMEMORATIVE STERLING SILVER. In commemoration of the 200th anniversary of the American Revolution, The Bicentennial Council of the thirteen original states presented these official Bicentennial ingots. Complete with original documentation- This is a beautiful collection. These are a series of 70 Bicentennial-themed sterling silver.
925 fine ingots, each packaged in a postmarked cachet, or envelope, with a total mintage of 19,312. The ingots were originally issued from 1973 to 1981. For example, the cachet containing the ingot commemorating the signing of the Declaration of Independence was postmarked July 4, 1976.
This item is the COMPLETE set of 70 sterling proof ingots. The ingots measure 36.7mm x 58.9mm x 3.1mm. Weight is about 57.8 grams (2.04 oz) per ingot.
70 x 2.04(oz) = 142.8 oz x. 925 purity = 132 oz silver by weight. Original gloves to inspect items. Original Silver Bars on each card. Original letter accompanying each silver bar......
#1 Issued December 16, 1973 -Boston, Massachusetts. The Boston Tea Party Ignites the struggle for the American independence. #2 Issued January 30, 1974 - London, England.
England removes Benjamin Franklin as Deputy Postmaster General. #3 Issued May 11, 1974 - Boston, Massachusetts. England avenges the Boston Tea Party by closing the port of Boston. #4 Issued May 20, 1974 - London, England. England attempts to control the government of Massachusetts. #5 Issued June 22, 1974 - Quebec, Canada. Quebec act suppresses the colonies' growth westward. #6 Issued September 5, 1974 -Philadelphia, Pennsylvania. First Continental Congress unites the colonies. #7 Issued October 19, 1974 -Annapolis, Maryland.
#8 Issued December 14, 1974 New Castle, New Hampshire. New Hampshire Patriots attack Fort William and Mary. #9 Issued March 23, 1975 - Richmond, Virginia. Give me liberty or give me Death!
#10 Issued April 18, 1975 - Boston, Massachusetts. British troops march as Paul Revere sounds the alert. #11 Issued April 19, 1975 -Lexington, Massachusetts. Encounter at Lexington shows colonists are ready to resist.
#12 Issued April 19, 1975 - Concord, Massachusett. The Shot heard round the world changes the course of history. #13 Issued May 10, 1975 -Ticonderoga, New York. The Green Mountain Boys capture Fort Ticonderoga. #14 Issued June 17, 1975 -Charlestown, Massachusetts. The Battle of Bunker Hill high price for victory. #15 Issued July 3, 1975 - Cambridge, Massachusetts.
Washington takes command of the Continental Army. #16 Issued August 14, 1975 - London, England. The Colonies make a final plea for peace.
#17 Issued November 29, 1975 -Philadelphia, Pennsylvania. Congress forms the committee of secret correspondence. #18 Issued December 31, 1975 -Quebec, Canada.
The Quebec campaign diverts British strength to Canada. #19 Issued January 1, 1976 -Somerville, Massachusetts.
Continental colors symbolize the colonies' unified strength. #20 Issued January 5, 1976 - Exeter, New Hampshire. New Hampshire becomes an independent colony. #21 Issued January 10, 1976 -Philadelphia, Pennsylvania.
Thomas Paine asserts the colonies' right for independence. #22 Issued February 27, 1976 Currie North Carolina. Fighting Spreads to the South.
#23 Issued March 17, 1976 - Boston, Massachusetts. British Forced to Evacuate Boston. #24 Issued April 12, 1976 Halifax North Carolina. North Carolina leads the struggle of independence. #25 Issued June 11, 1976 Philadelphia, Pennsylvania. Committee Formed to Draft the Declaration of Independence. #26 Issued June 28, 1976 Charleston, South Carolina.
British Attack Repulsed at Charleston, South Carolina. #27 Issued July 2, 1976 Dover, Delaware.
Caesar Rodney Casts the Deciding Vote for Independence. #28 Issued July 4, 1976 - Philadelphia, Pennsylvania. #29 August 30, 1976 Brooklyn, NY. Washington's Withdrawals Saves Continental Army. #30 September 22 1976 New York, NY.
The Execution of Nathan Hale. #31 October 11, 1976 Plattsburgh, NY. Benedict Arnold Stops British Invasion from the North.
#32 November 16, 1976 Netherlands Antilles. Dutch Fire 11-Gun Salute to the American Flag. #33 December 20, 1976 Baltimore, Maryland. Congress Convenes in Baltimore, Maryland.
#34 December 26, 1976 Trenton, NJ. #35 December 28, 1976 Paris, France. Franklin Begins Negotiating French Alliance.
#36 January 3, 1977 Princeton, NJ. #37 June 14, 1977 Philadelphia, PA.
Congress Adopts the Stars and Stripes. #38 July 27, 1977 Fort Edward, NY.
The Scalping of Jane McCrea. #39 August 01, 1977 Philadelphia, Pennsylvania. #40 August 16, 1977 Bennington VT. #41 September 11, 1977 Chadds Ford, Pennsylvania.
#42 October 4, 1977 Philadelphia, PA. #43 October 17, 1977 Schuylerville, NY. #44 November 15, 1977 York, PA. #45 December 19, 1977 Valley Forge, PA.
#46 February 6, 1978 - Paris, France. #47 February 23, 1978 Valley Forge, PA.
Von Steuben joins Washington at Valley Forge. #48 May 4, 1978 York PA. Congress Approves Treaties with France. #49 June 28, 1978 Freehold, NJ. #50 August 29, 1978 Newport, RI.
#51 December 29, 1978 Savannah, GA. #52 February 25, 1979 Vincennes, IN. #53 March 3, 1979 Sylvania, Georgia. #54 July 16, 1979 Stony Point, New York.
#55 August 14, 1979 Philadelphia, PA. #56 August 22, 1979 Athens, PA. #57 September 23, 1979 Flamborough, England. John Paul Jones Defeats British.
#58 October 9, 1979 Savannah, Georgia. Allies fail to recapture Savannah. #59 February 2, 1979 Moscow, USSR. Catherine II forms League of Armed Neutrality. #60 May 12, 1980 Charleston, South Carolina.
#61 July 10, 1980 Newport, Rhode Island. French General Rochambeau Reaches Newport. #62 August 16, 1980 Camden, South Carolina.
#63 September 23, 1980 Tappan, New York. Capture of Major John Andre. #64 October 7, 1980 Kings Mountain, North Carolina. #65 January 17, 1981 Cowpens, South Carolina.
#66 March 15, 1981 Greensboro, North Carolina. #67 September 5, 1981 Yorktown, Virginia. Battle of the Chesapeake Capes. #68 September 6, 1981 Groton, Connecticut. Benedict Arnold burns New London. #69 September 8, 1981 Butawville, South Carolina.
#70 October 19, 1981 Yorktown, Virginia. This seems like an obvious statement, but the reason its important is because silver has many similarities with gold. Advantages that virtually no other asset provides. Of all the investments you own, how many can you hold in your hand?
In a world of paper profits, digital trading, and currency creation, physical silver is a tangible asset that cant be hacked (something your stock broker constantly guards against). It cant be created out of thin air (and thus depreciated) like paper currency or digital entries. Look through monetary history and youll find that silver has been used in coinage more often than gold. Has no Counter party risk. If you hold physical silver, you dont need another party to make good on a contract or promise.
Has never been defaulted on. If you own physical silver, you have no default risk. Not so for almost any other investment you make. Can be private and confidential.
If youd like some privacy or confidentiality with a portion of your investments, physical silver can provide it. Ilvers advantage over gold is that you can capture all these same benefits but at a much lower cost. Its why silver is called the poor mans gold. Investor Implication: Silver is much more affordable for the average investor, and will help maintain your standard of living as well as gold.
Thats because it costs the refiner just as much to produce a tenth ounce coin, for example, as a one ounce coin. Maybe someday you dont want to sell a full ounce of gold to meet a small financial need. I think every investor should have some silver around for this very reason. Last, silvers greater affordability makes it more ideal for gifting.
Want to give some precious metals as a gift? Silver just made it more affordable to do so. So, silver is ideal for investors with small budgets, and also for any small financial needs that may come up in the future. About 12% of gold supply goes to industrial uses.
But due to silvers unique characteristics, a whopping 56% of its supply is used in industry. Silver has so many applications that believe it or not, you dont go one day without using a product that contains it.
From electronics and medical applications, to batteries and solar panels, silver is everywhere, whether you see it or not. Of all the elements, silver is the indispensable metal. It is the most electronically conducive, thermally conductive, and reflective. Modern life, as we know it, would not exist without silver. Because the state of the global economy can have a greater impact on silver demand than gold. Silver is thus more susceptible to economic booms and busts. Investor Implication: Demand for industrial uses of silver is high in a strong economy, and weaker in a recession or deflation. But thats only part of the story unlike gold, most industrial silver is consumed and then thrown away (and in some cases destroyed during the fabrication process). Its just not economic to recover every tiny flake or grain of silver from most products. As a result, when the product gets discarded, that silver is gone for good. This limits the amount of silver that can return to the market through recycling. Investor Implication: Unlike gold, millions of ounces of silver are lost every year. New supply must keep up in order to meet demand. Stockpiles are Falling, Golds are Rising. This difference may not seem to have immediate importance to an investor, but its a behind-the-scenes development that could potentially have big consequences in certain circumstances. Governments and other institutions used to hold large inventories of silver. Today, however, most of them no longer have stockpiles of the metal.
In fact, the only countries that warehouse silver are the US, India, and Mexico. Look whats happened to those inventories since 1996. The primary reason governments dont hold a lot of silver is because its no longer used in coinage. But as we outlined above, silver is used in industry to a much greater degree now so if future industrial needs rise, or the supply chain were interrupted, governments will be ill-equipped to support those needs.
In contrast, central banks hold almost 30,000 tonnes (96.4 million ounces) of gold in official Reserves. While this source of demand for gold isnt present for silver, it does put the silver market in a precarious position. If the need for physical silver were to suddenly increasea monetary crisis, a shortage in industrial supply, a spike in investment demandgovernments wont be able to meet these needs with such tiny stockpiles. This scenario would have a great impact on the silver marketdemand would spike, and the price would skyrocket. This scenario may or may not play out, but its a delicate position that could have a deep and immediate impact on the silver market.
The item "132 OZ SILVER Franklin Mint Bicentennial Counsel 13 Original States Proof" is in sale since Monday, June 12, 2017. This item is in the category "Collectibles\Decorative Collectibles\Decorative Collectible Brands\Franklin Mint\Other Franklin Mint". The seller is "bone_seller2" and is located in Tracy, California. This item can be shipped to United States.